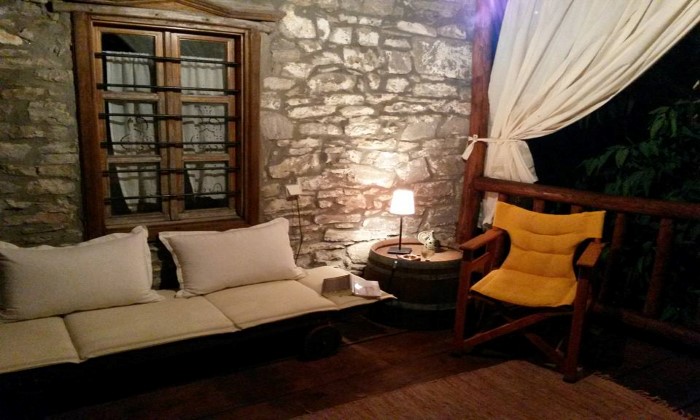 For Rent
Our two-store stone house with its wooden roof, ground covers a surface of 40 sqm, and was built in 1887 following the traditional "Macedonian Technique".
Since then, it has been renovated twice with great care and respect for its traditional elements. The original fireplace and the built-in wooden iconostasis have been kept intact. It has been decorated carefully using always either antiques or modern objects that are compatible with the traditional architectural style.
The house belongs to the category of "Monospita" of Kazaviti. The single houses were the homes of the poor families of the time, where the whole family lived in a single room and the fireplace (trivet) was used not only for heating and lighting, but also as an assembly point for the whole family. There, there used to be the family beds, while the clothes would hang on the walls, the food would be kept in the internal part of the windows in order to keep cool and the family would eat on improvised wooden low tables sitting on the floor in a squatting position (sofrades). On the ground floor ("down"), they used to keep some domestic animals (usually a donkey and a goat) as well as some of the family supplies (e.g., oil, wine, olive soap) and agricultural tools.
The original structure of the premises remained unchanged. Today the ground floor has been converted into the kitchen, the bathroom and the staircase leading to the first floor. The first floor consists of a single room with a fireplace, the walled shrine, a double bed , and a double sofa bed and can accommodate two or more people and a wooden staircase leading to a small attic under the wooden beams of the apparent internal roof. Two roofed balconies (on the ground floor and the first floor) allow the visitor to admire the beautiful natural surroundings throughout the day. In the small courtyard a small built-in barbecue and a traditional wood oven make a functional outdoor kitchen.
Our stay at this house, either for our summer holidays or for short getaways from Kavala where our permanent home is, has always been a pleasure. Hence, we would like share with you this unique sense, of relaxing tranquillity in the nature and of traveling in back in time and living in a museum, despite the fact that the house is located only 5 km away from the bustling coastline.
Pictures and texts of the holiday home with kind approval of D. Vardavoulias.
Copyright of all pictures and texts of the holiday house of this page are owned by D. Vardavoulias.
Diese Seite ist auch in: Deutsch verfügbar